David Matthews' Ultrasonic Inspection triumph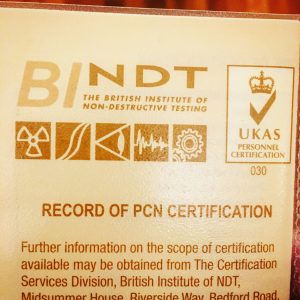 PCN Level II Ultrasonic Inspection of Welds
Congratulations to David Matthews who has passed his PCN Level II Ultrasonic Inspection of Welds in plate and pipe! He scored an overall 91.4% average and nothing under 90%. Edward Cadenne de Lannoy, Managing Director said, "David yet again has shown how hard work pays off. It was a very intensive course taking him away from home for long periods of time and we are incredibly proud to have been able to support further development for both himself and the company".
Here at CDL Group Ltd we are delighted we can and will invest in our staff wherever feasible. Our whole ethos as a company is based around the notion that our staff stay, develop and grow. This then improves our standards as providers of services and enables us to further enhance the CDL Group Ltd brand. We are fortunate to have more training opportunities in the pipeline for David and other members of staff so we look forward to sharing future success stories with you and when they happen.
If you require Ultrasonic Testing, whether it be on site, in a premises of your choice, or in our unit please do not hesitate to contact us on our page or by following this link.